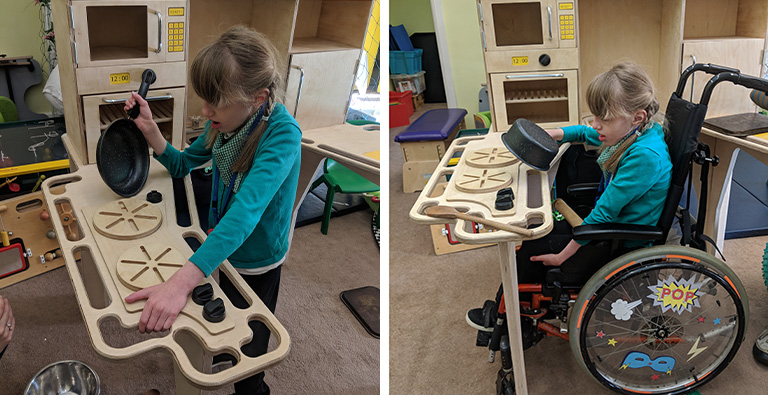 Last year we began working with a Yorkshire family to find a way for their child to explore new play experiences and engage with physiotherapy. Their child showed great interest in a play kitchen used by peers, but simply couldn't access it.
Together, we created a play kitchen that children using wheelchairs or walking frames could all engage with. Children using wheelchairs can roll straight up to the sink and sturdy handrails around the worktop give support when standing to those who need it. Practicing standing and moving around the kitchen is a great way to get the benefits of physical therapy, all while being joyfully distracted by interesting sensory experiences.
"EJ is a truly sensory being. She loves to experience the sounds of pans banging on the wood, and the click of the doors closing. With this kitchen, she and her brother can play closely together whether she's sitting in her wheelchair or feeling strong enough to practice standing and stepping." Vaila, author of blog The Inclusive Home and mum to EJ, one of our kitchen test pilots, tells us about her experience with the new play kitchen.
While being a wonderful sensory experience for some, the kitchen is also a platform for role playing, enabling children to practice empathy skills which help them thrive in later life. The kitchen encourages engagement among children of all abilities who may typically be prevented from enjoying the same activities. We believe both disabled and non-disabled children will enjoy richer learning experiences.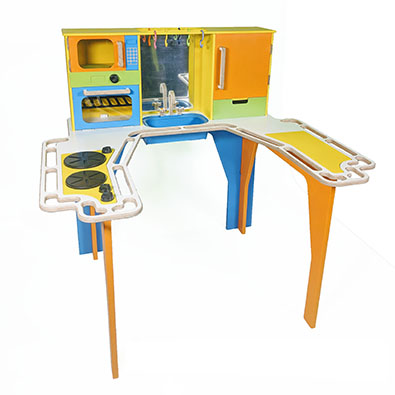 "We were excited to take on this project as our research showed a real gap in provision for children who use wheelchairs. The family we worked with shared lots of ideas and helped us understand what features the kitchen should have. We communicated with sketches and models and finally found a design that ticked all the boxes! It was important to us that the kitchen became an inclusive toy that would not stand out as a 'disability aid'. It's got great benefits in terms of physiotherapy but will be equally enjoyed by non-disabled children all the same. It's creating a level playing field for everyone to enjoy exploring together." Bex – Designer Maker at DEMAND
We now want to refine the design and build more play kitchens to carry out longer term testing in different environments. We'll partner with schools whose students could benefit from opportunities to access physical therapy and engage with new sensory experiences and imaginative role play. With insights and feedback from these tests we'll be able to further refine our design and make it available to even more children who have never been able to access a typical play kitchen.
If you'd like to find out more about this project or get involved with testing please get in touch.