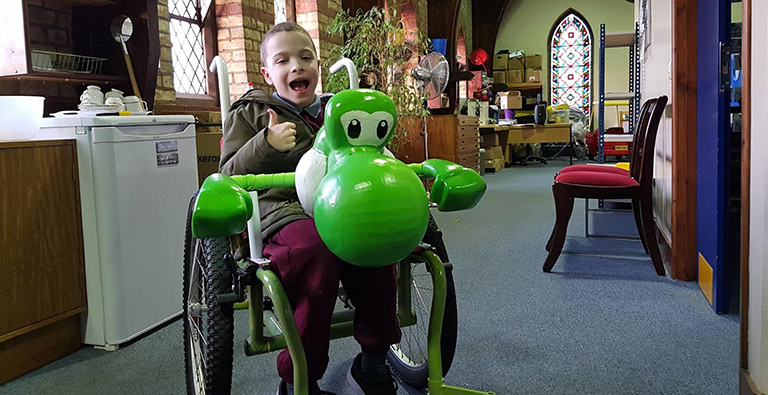 Jack is 7 and enjoys being part of his Beavers troop in Carpenders Park. He has mild cerebral palsy which affects his mobility and coordination, so uses crutches and his walking frame to help him get around. An integral part of life as a Beaver is taking part in activities and expeditions in the great outdoors. When he turns 8, Jack hopes to become a Cub, and eventually a Scout a few years down the line. To allow him to continue scouting, Jack needed a reliable way to get around on uneven ground in woodland, grassy areas and rocky paths. He simply can't keep up with his friends and the uneven ground makes it almost impossible to use his walking frame or crutches safely.
When Jack moved from Beavers to Cubs this year the plans for expeditions became more adventurous and Jack's parents were concerned that he would be excluded from trips if he couldn't walk the long distances needed to keep up with his troop. They looked to DEMAND to get help finding a solution. A wheelchair would solve the problem, but Jack's parents didn't want him to become reliant on a wheelchair since the exercise and activity he gets from using crutches helps to keep him mobile and strong.
We agreed to adapt a wheelchair so it only works when tipped up and pushed by someone else, great for helping Jack move over longer distances, but definitely no match for the crutches that help Jack get around under his own steam. Jack loves all things Super Mario, so our designers hatched a plan to transform Jack's all-terrain vehicle into his favourite character, Yoshi. Much like in the Super Mario world, Yoshi is always there to help Josh get where he needs to go. Josh is the envy of his fellow Beavers aboard his very own all-terrain Yoshi!
Jack's mum Caroline said "Jack's cubs were going to the 'Festival of Slime' which entailed meeting at a underground station, travelling to London followed by a 25 minute walk. Without Yoshi, Jack would have missed out. The walk would have been too long and he wouldn't have been able to keep up with the others. He would have been too tired to make the slime! The festival was oversubscribed and in his Yoshi chair Jack was safe. If he'd been on his sticks he would have been knocked over so many times he probably would have lost his confidence and been injured."
A special mention goes to PYC Upholstery who kindly offered their time and expertise to create the fetching red seat for Jack's chair – we think it's the perfect finishing touch!
Find out how you can support more life enhancing projects like this. See more stories