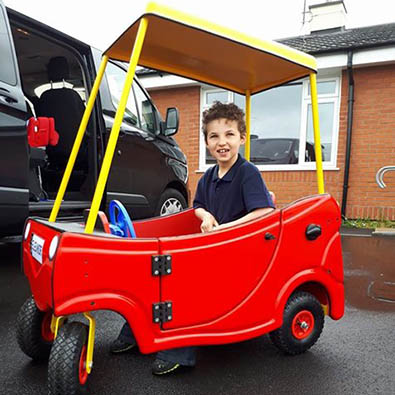 7 year old Eleanor has a new therapy car made specially for her by our talented team. Eleanor recently outgrew the Little Tikes car she used to get essential exercise and to have fun outdoors. Eleanor has cerebral palsy and can't ride a bike, so this custom made car will help her to stay active and get the physical therapy she needs.
Eleanor's cerebral palsy affects the movement and control of her muscles and means she needs intensive physical therapy to develop the coordination and strength in her legs. Since she is unable to pedal a bike or trike like many children of her age, her car is the perfect way for her to keep her muscles moving and have fun at the same time. After school Eleanor will head straight to the garden to play with her beloved Little Tikes car. For hours she drives it around the 'track' in her garden and will stop to refuel at her special petrol pump.
Without our help, Eleanor will miss out on valuable opportunities to get her muscles moving and to develop the strength and coordination that will go on to benefit her throughout her life.
"Eleanor is over the moon with her new car. We just didn't know what we were going to do with her having outgrown her original car." Eleanor's mum, Susan explains; "We'd looked for something bigger but nothing was suitable. She needed a supportive seat, no pedals and something that will last as she gets even taller! We found out about DEMAND online and were thrilled they could help us."
"Eleanor sees her car as simply great fun, but we know she's getting the opportunity to develop her strength and coordination too. Having access to a suitable therapy tool that she also loves is more than we could have hoped for. Thank you DEMAND and everyone who donated and helped fund this incredible piece of kit!"
If you could benefit from a custom design like this, get in touch to discuss your ideas with our team. Please help us to change even more lives with a donation today.
See more stories