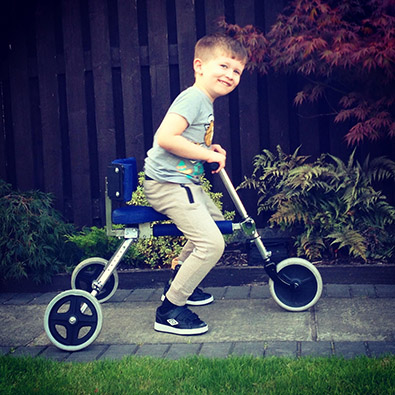 Brody is 5 and has an as-yet undiagnosed condition. He also has epilepsy, autism and hypermobility syndrome which together mean that Brody is unable to speak and can only walk for short distances. His motor challenges mean he isn't able to pedal a bike, but he loves to scoot about on his Scuttlebug trike. Brody is fast outgrowing his Scuttlebug and exceeding the weight limit for safe use. His mum explored many solutions before stumbling across one of our previous projects online, a trike for Summer, who has Rett syndrome. She had reached out to toy manufacturers to ask if they could provide a bigger ride-on scooter for her son, but even with support from other parents of disabled children she reached dead ends.
Without access to an activity that expends a great deal of energy, Brody is likely to miss out on the valuable exercise that keeps him healthy. He doesn't have the ability to run and jump around, so riding his Scuttlebug trike is one of the only ways Brody can keep active. Luckily for him, our team had the perfect solution. Following a home assessment to gain an insight into Brody's needs, our engineers agreed to build a larger and sturdier trike that Brody can push with his feet. With built-in height adjustment, this custom made trike will last him for many years to come.
Play and physical activity are an integral and vital part of childhood, and for Brody, who is unable to access many activities that children his age enjoy, enabling him to play alongside his peers and siblings is a great freedom. Having access to a suitable trike will at last provide Brody with opportunity for inclusion rather than exclusion yet again.

Find out how you can support more life enhancing projects like this.