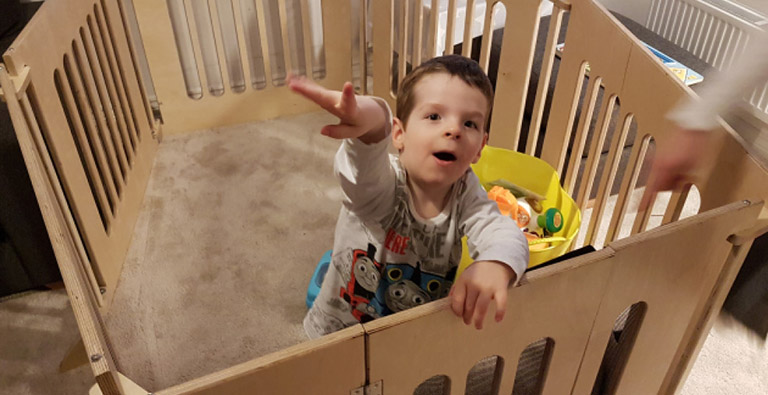 James is 5 and was born with Coffin Lowry Syndrome, a rare and life limiting genetic condition. He has severe learning difficulties, communication delay and low muscle tone. He needs constant supervision as he is unaware of dangers and hazards around his home.
James' parents got in touch with DEMAND looking for help to keep their son safe and make everyday life more manageable when they could no longer find a playpen suited to his needs. Using a playpen has always been essential for James, it keeps him away from things that could cause him harm and allows him to focus on a toy or activity without getting distracted and crawling away. James outgrew his playpen this year, making it unsafe for him to continue using.
James' mum told us about her ideal solution that would help her keep her son safe; "James has no awareness of danger and due to his low muscle tone he has developmental delay. A taller playpen with a gate would be perfect, where we can still see James. A safe space for James where he is enclosed away from switches, sockets and anything he could choke on."If there is only one adult in the house with him, which is usually the case, we cannot leave to make him tea, grab a new toy, go to the toilet, or answer the door."
"Giving James his own space to play again would definitely 
make

 him happier. Having a suitable playpen would mean we'd be able to go back to normal life in the house."

Now James and his family have a suitable place for James to play and explore his independence without coming to any harm.

Find out how you can support more life enhancing projects like this.