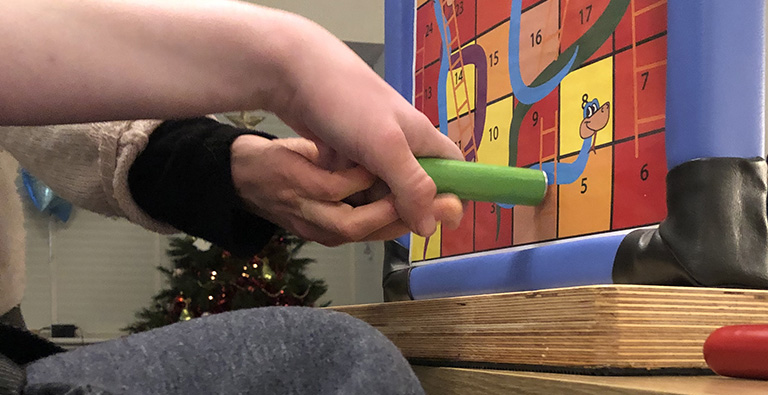 Rowan's mum shares a #DreamBig story.
"It's kind of a tradition for us to enjoy a board game after school. We often unwind and have a giggle while dinner's cooking. Our favourite is snakes and ladders, brother versus brother, kids versus parents or whoever else we can rope in! The boys keep a tally of their victories but it's all a bit of fun really. Rowan loves playing against his brother, he needs some help to move the counter because his cerebral palsy affects his grip and arm movements. We contacted DEMAND hoping they would be able to help us find a way for Rowan to play more independently. He was getting frustrated with the amount he was able to do and we just thought – why does the game have to be like this?! The pieces are tiny and difficult to grip, they move around the board and one knock could mistakenly send you slipping down a snake back to the start! We have a giant foam dice Rowan rolls by flinging it off his knee with a big swipe of his arm. We wanted a way for him to enjoy the rest of the game too.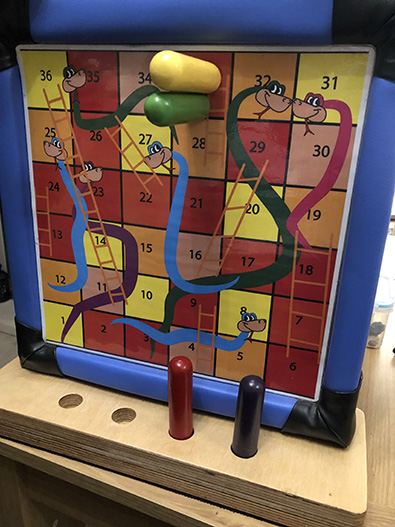 Now we have a board that sits straight up instead of flat so Rowan can see exactly what's going on even from his wheelchair. The pieces are big wooden dowels you can grab or push and they stick to the board with magnets. It's all relatively low tech but Rowan loves how involved he can be. The kids are attracted to it because it's always ready to go not hidden away in a box, and often ask if they can play a game together. It's so much better standing up on a table because Rowan can keep himself in a upright position in his chair rather than leaning over the board. It means he can communicate more clearly using eye pointing with symbol sheets made by his speech therapist in school to say whose turn it is."
I #DreamBig about winning snakes and ladders.
What is #DreamBig?
We're celebrating ways we can overcome barriers to access and inclusion often met when following our dreams. With opportunities to break down these barriers using assistive equipment, accessible facilities and positive attitudes, we believe everyone can pursue their dream, however big or small.
DEMAND is the charity working with disabled people to find practical solutions for independence and inclusion. We #DreamBig and want to join forces with everyone who believes disability should be no barrier to opportunity. We're sharing stories from great people we have worked with to inspire others to #DreamBig too.