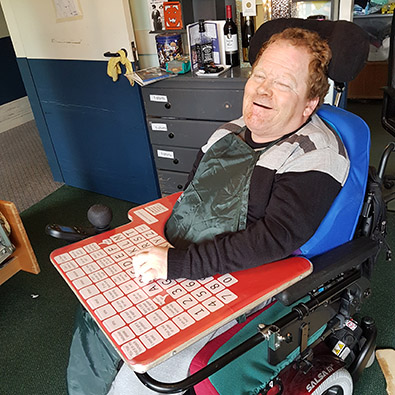 51 year old Mark from Chesham has a new custom made communication aid which allows him to communicate even though he is unable to speak.
Mark has cerebral palsy which affects the movement and control of his muscles, he communicates by pointing in turn to letters and phrases on the board. He is a talented artist whose work has been exhibited with The Birchwood Painters at The Chesham Museum.
Our team have been making the communication aids Mark needs for many years because, like all of the equipment made by us, there is no suitable alternative on the market. Having a custom made word board is absolutely essential to Mark and allows him to communicate with friends, family and anyone he meets in his own unique style.
"Having a word board is essential to Mark as it enables him to actively engage in conversations as well as making his needs clearly understood. Providing a custom made piece of equipment like this costs around £900, but finding solutions to more complex challenges can cost thousands.
We receive no government or NHS support, but the people we help rely on us to find solutions to the challenges they face every day. It's vital that DEMAND is here to help anyone who needs us in the future, and we can only do so with your support." Denise Gillies, Fundraising Manager
Discover more about our services, and find out how you can support our work.