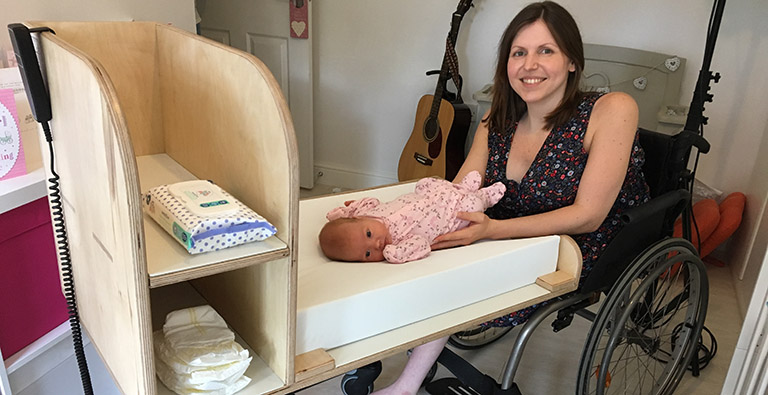 Laura is a new mum and a wheelchair user. She has spina bifida and was keen to find ways to tackle her new parenting challenges independently – including nappy changing!  We visited Laura at home to fully understand her needs and agreed with her that a powered, height adjustable changing table , that could easily be manoeuvred around the house would be a perfect solution. Our designers even added a neat storage unit so that Laura always has the essentials on hand, she's thrilled with the result. 
"Whilst I am able to change Evie's Nappy on my bed and on the floor the table enabled me to change her from my wheelchair which was very important in the early days. I had a cesarean section and for a while I couldn't get down on the floor at all and it was tricky transferring onto my bed every time she needed changing."
"I'm so pleased that I contacted DEMAND all those months ago, they were very friendly and helpful at every stage of the design process, and with their generous support I am confident that I can overcome all of the physical challenges caring for a baby (and soon a toddler!) will bring me."
Please get in touch to talk with our engineers about a project like this.