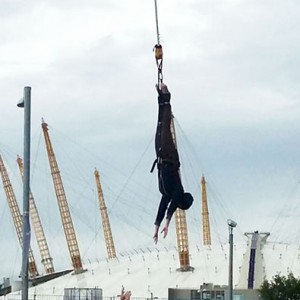 Claire Berke, intrepid Lettings Manager at Imagine Estate Agent Group Watford, undeterred by the recent poor weather, raised over £400 this August to support the work of Abbots Langley based charity DEMAND.
On the 23rd of August, Claire completed her first ever solo bungee jump at the O2 arena, from a height of 160ft, or as high as a stack of 10 london buses!
"I like to help local charities and after visiting DEMAND's workshop I was really inspired to help out" Claire visited DEMAND's workshop this year with colleagues from Imagine Group, who have since been working hard to fundraise. "A few colleagues did a skydive earlier this year, another is doing a long distance bike ride. Myself and a colleague have held a charity bake sale"
We're always hugely thankful when someone decides to do something special and fundraise to support us, It's great that by completing this bungee jump Claire has spread the word of DEMAND's life enhancing work among her friends and family. Theoretically, we could have filled the arena that day entirely with people whose lives have been touched by DEMAND's work, which I'm sure would have made for an incredible cheer to encourage Claire!