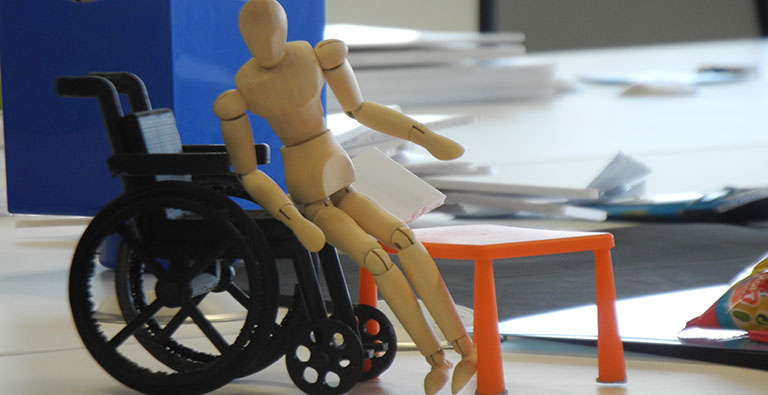 On the 6th April, we were invited to take part in a co-design workshop, headed up by Giulia Barbareschi and supported by the Global Disability Innovation Hub as part of ongoing research with University College London. Guilia's background is in physiotherapy, and having seen first hand the negative health effects and risks of wheelchair transfers, she wanted to do something to help.
"Being able to transfer in and out of the chair is one of the most important skills for wheelchair users who wish to be independent in their everyday lives." Giulia writes. "Unfortunately wheelchair transfers are not only very important for many users, they are also very difficult."
Co-design, or participatory design, is a process where all stakeholders are involved in the creation process. The idea being that by involving end users, in this case wheelchair users, at the very start of the design process, the result will be more suitable and more meaningful to the eventual users. To this end, wheelchair users, product designers, computer science experts and even fashion designers were invited to join forces for the day to explore how wheelchair transfers can be made safer and easier.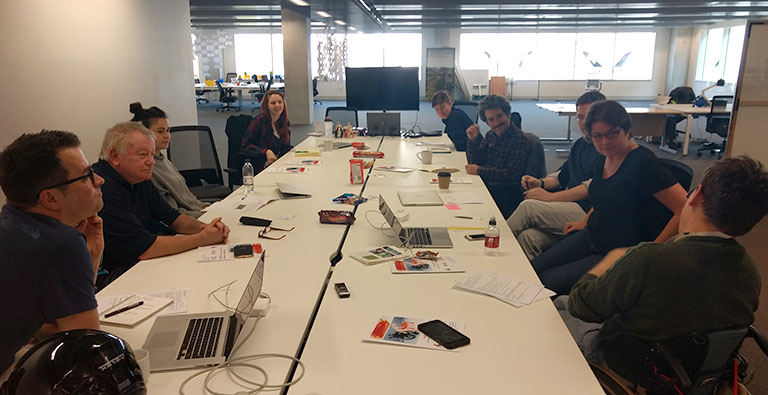 The day started with a brief introduction and the group were told about the long and short term risks associated with wheelchair transfers. In the short term, falling while transferring is a huge risk, and in the longer term, researchers have proven a link between repeated transfers and shoulder injuries and carpal tunnel syndrome due to the force and weight of the whole body being supported by the arms.
We enjoyed an open discussion and heard three very different perspectives from wheelchair users, only one of whom had received training in how to perform a safe transfer and mitigate the risks involved.
The group discussed how adequate training could be provided and how people could better understand the health risks of performing transfers as well as more practical solutions such as changes to the wheelchair design and re-designing the commonly used transfer board.
It was quickly identified that split-level transfers, where there is a difference in height between the wheelchair seat and the place to transfer to, can be some of the most challenging and potentially hazardous scenarios.
The group split into two teams to address the challenge of performing a split level transfer.
Ideas coming to life…. #design4transfer pic.twitter.com/KZbdwVLxdp

— Giulia Barbareschi (@GiuliaBar86) April 6, 2017
The ideas quickly began to flow as the groups discussed practical solutions.
Back to work for our make phase! #design4transfer pic.twitter.com/9FSiVy2vSv

— Giulia Barbareschi (@GiuliaBar86) April 6, 2017
After a pause for lunch, the teams began to prototype chosen concepts.
Prototyping with LEGO 🙂 #design4transfer pic.twitter.com/8IwuRMcDNZ

— balazs kovacs (@BKkovacs) April 6, 2017
This prototype demonstrated a lifting 'sling' fitted to the armrests of a wheelchair, which would serve to lift the user by a few inches to reduce any difference in height between the transfer surfaces.
Another approach was illustrated with a second prototype, incorporating a lifting mechanism into the wheelchair cushion that could be powered either by energy stored while self-propelling the wheelchair, or by a hydraulic pump.
Seat raiser prototype! #design4transfer pic.twitter.com/8sa2MilEjU

— Giulia Barbareschi (@GiuliaBar86) April 6, 2017
An alternative solution explored on the day was to design a 'one-way' transfer board that would prevent the user slipping down when transferring from a low to higher surface. If the user is able to transfer part way and be able to stop and rest without slipping back down the transfer board there won't be a need to make the whole transfer in one movement, putting huge strain on the arms and through the shoulder joints.
At #design4transfer workshop. Glueing scales. Not the thing I expected to do this morning pic.twitter.com/aCZTgjU25c

— Britta Friederike (@brifrischu) April 6, 2017
The team discussed using a velvet fabric to create a one-way surface, but decided large silicon 'scales' would be most durable and effective.
The teams presented their ideas and even tested the one-way transfer board which proved very effective even at this early prototype stage.
The day proved an excellent introduction to co-design and the benefits it can bring to the disability sector, simply by making people with lived experience of disability an integral part of the creation process.