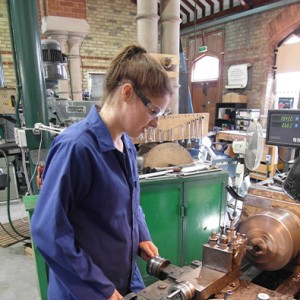 At the end of August we waved goodbye to our student Heather, who has been designing with us for 3 months on a student placement from Northumbria University! She speaks about her time with DEMAND;
'I wanted to work with DEMAND because I see the way working with individuals makes such a huge difference to their lives.
The most rewarding project I've worked on was for a young gentleman who has Cerebral Palsy. He had a motorised frame to lift and hold him in a standing position, but couldn't use it properly because his feet would move under his weight. I designed an adjustable footplate with velcro 'sandals' to hold his feet steady. Watching him stand was such a satisfying moment for me, standing is something lots of us take for granted. This moment showed me how big a difference DEMAND's work really does make to people's lives.
My time here has presented me with many skills I never had before, I've become more confident in the workshop and able use machinery such as the lathe. Skills which I hope will make me a better designer in the future!
I hope that my future career will be just as rewarding and make as much difference to the people's lives as it did during my time at DEMAND.'