Team Synergy collect the Think About It Films award for Market Engagement
A team of students from Parmiter's School in Abbots Langley took on the Watford and Three Rivers Trust's (W3RT) Dragon's Apprentice Challenge 2015/16 and turned an investment of £100 into an incredible £12,008.04 to support DEMAND.
The enterprising students ran a wide range of fundraising evenings in the local community as well as in school, including a very popular Curry Night. Team Synergy won the award for Market Engagement, having used social media sites Twitter, Facebook and Instagram to advertise their fundraising events, and much to the enjoyment of their fellow students, provided live photo commentary of their activities.
Charlotte Day, Co-director of Operations, was awarded the Hillier Hopkins award for Resilience and Achievement thanks to her commitment and ability to overcome difficult personal circumstances to become an influential member of Team Synergy.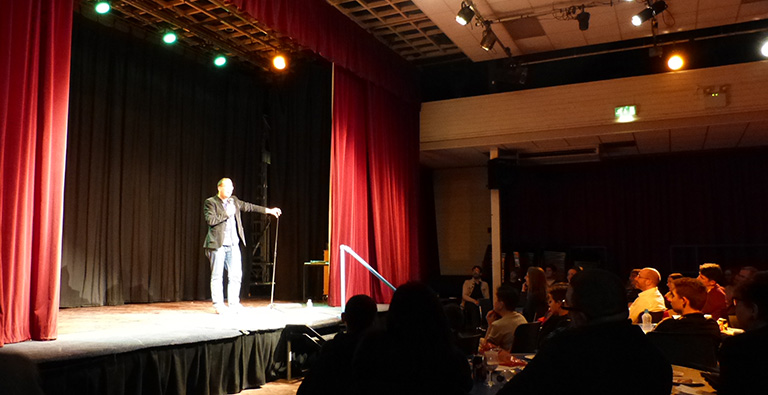 Team Synergy's Comedy Night raised £1500 towards their total
'There is the added sense of fulfilment which comes with knowing that we've all helped to have a positive impact upon someone's life." Shanil Panara, Parmiter's School student and Synergy Team Leader
Our CEO Gary Evans was delighted and humbled by the team's magnificent result."From the minute Holly (Team Synergy Co-director of Operations) walked through our doors and introduced herself I knew there was something special about this team and they certainly proved it.
I am absolutely over the moon with what they achieved and hugely impressed with their energy and creativity. They're a credit to the school and to the whole community".

Business Mentor Actar Dinata collects the award for Most Inspirational Business Dragon
Actar Dinata, member of Watford Rotary and Team Synergy's business mentor was recognised as 'Most Inspirational Business Dragon' with an award sponsored by UD Salon, while our very own Denise Gillies was thrilled to be named 'Most Inspirational Charity Leader'.
"We are so pleased to have been a part of this years challenge.  I am thrilled with the entire experience and couldn't have asked for nicer students and mentor to work with. What an incredible result that will transform the lives of many people who need our help"- Denise Fundraising Manager at DEMAND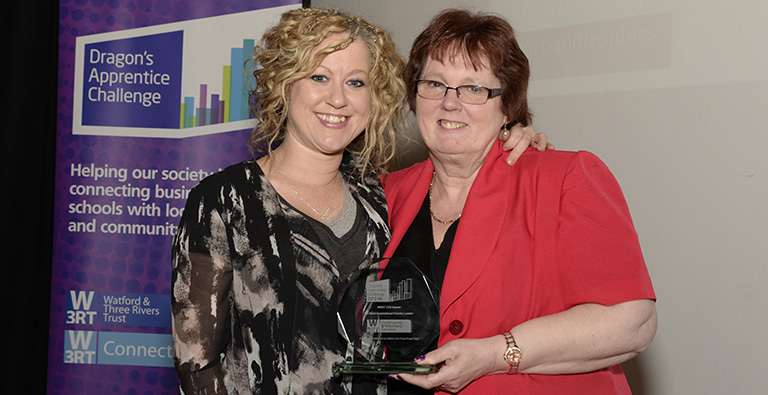 Denise, Fundraising Manager at DEMAND collects her award
With thanks to Team Synergy:
Shanil Panara
Alex Phipps
Esther Hong
Holly Livingstone
Charlotte Day
Lois Downes
Matthew Styles
Ria Dave
Anne Green
Eve Paoaioannou
& last but by no means least their business mentor Actar Dinata.