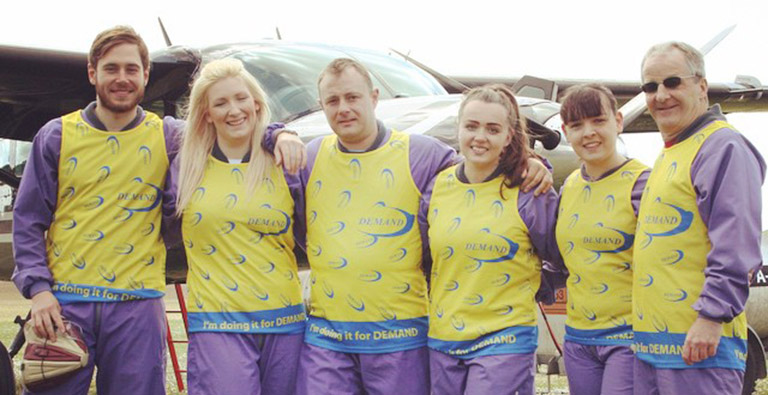 On Saturday the 16th of May Hollie Collins, pictured 3rd from right, a student on placement at Abbots Langley charity DEMAND completed a superhero skydive from 10,000 feet, raising much needed funds to support the charity in its aim to transform the lives of people living with disabilities.
We are thrilled to be supported by fundraisers who have given their time to spread the word of our charity in their own families and communities
DEMAND are always in need of donations and the money raised from this year's skydive will go a long way to help people with disabilities not only in their everyday lives, but also enable participation in education, sports and leisure activities.
After an incredible response to the search for fundraisers, Sadie, James and Dean from Imagine Estate Agents, Rebecca and David (all pictured) gave up a sunny Saturday at home to accompany Hollie to the North London Skydiving Centre where they received training before taking off from the airstrip around 10 am.
Thankfully the skies were free of clouds as the group jumped from the plane, each firmly affixed to the front of an experienced skydiver. After free-fallling at over 100 miles an hour parachutes were deployed, letting the group take in some incredible views of the leafy Oxfordshire countryside.
As heart rates returned to normal after touching down on terra firma, the group celebrated a grand total of over £2,000 raised in aid of DEMAND's work in the local area and across the country.