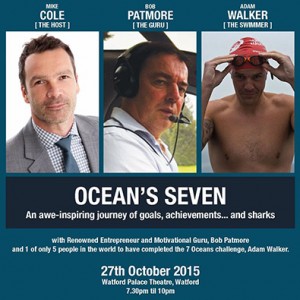 On Tuesday 27th October over 200 guests gathered at the Watford Palace Theatre to hear from 3 speakers who've found their own successes in life in hugely varied industries.
Mike Cole of Imagine Group arranged Tuesday's event after a successful foray into motivational speaking in 2014. With sponsorship from Birtchnells Quality Menswear, STORM IT Support and Cavendish Law Group, Imagine organised a jam-packed evening which left guests feeling inspired to go out and achieve their own goals.
Monies raised from the event exceed £2,000 which will go on to transform life in practical ways for people living with disabilities.
Denise, Fundraising Manager at DEMAND said 'We're grateful to everyone who supported the event. The determination and focus of Adam and Bob was truly inspiring. Adam's story of overcoming physical challenges having suffered badly with back and shoulder pain really resonates with DEMAND's work. He invented a new swimming stroke that helped to prevent injury and kept him swimming. Similarly through DEMAND's custom design service individuals are given the tools they need to overcome their own challenges in everyday life.
The money raised from Oceans 7 will mean more people with disabilities can achieve more with help of DEMAND's practical solutions.'
Renowned businessman and self-made multi-millionaire Bob Patmore inspired the audience with pearls of wisdom discovered throughout his career. Bob's desire to achieve in both business and sport has left him with a 4th Dan Black Belt in Karate, the memory of playing for Watford FC and a keen interest in horse whispering. This event wasn't Bob's first time fundraising however, having once crossed the Alps with a herd of elephants in Hannibal's footsteps to raise money for Leukemia Research.
Adam Walker is one of only 6 people in the world to complete the full set of 7 ocean swims, hailed to be the water-based equivalent of the Seven Summits challenge. He inspired guests with tales of his extraordinary feat, including being stung by a Portuguese Man o War and being saved by passing dolphins.
'We'd like to extend our thanks to Imagine Group, who have helped to transform so many lives already, the sponsors of Oceans 7, and lastly speakers Bob Patmore and Adam Walker who were responsible for leaving a theatre full of guests keen to take on whatever the world has to offer this week!'