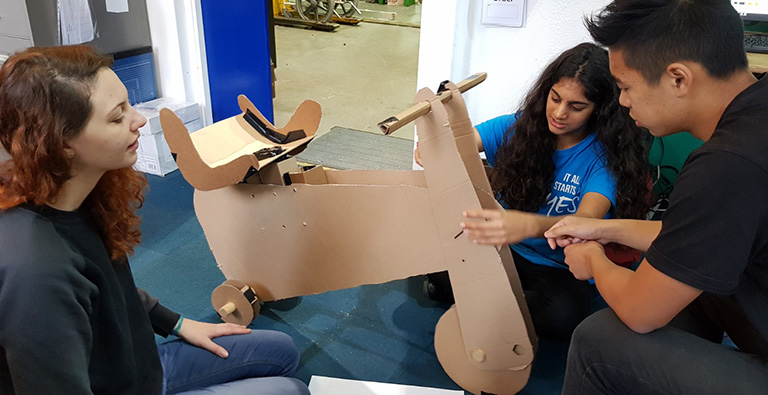 This October we welcomed Heera, a student from St. Margaret's School, Bushey into the team for hands-on work experience in our workshop. She writes about her experience with us.
"I started my experience with a tour around the workshop, seeing tools that I've never heard
of before, or only seen in text books. For example I have learnt all about a powder coating
gun during my physics lesson, but having seen and used it in person, made me truly
understand how it works and all its possible applications.
During my week, I designed and manufactured a model of a trike (a tricycle without pedals) for children that have outgrown trike's already on the market. Trikes are a way for those with a motor disability to stay out of a wheelchair and therefore keep their legs active, improve their core and back strength whilst simultaneously building their motor and balance skills. The process started with a few ideas which materialised into some sketches all completely distinguishable from one another, leading to a difficult decision process to decide which design would be the best fit the brief that I had been given.
Once the decision was made I moved on to making the cardboard model of the trike which took me one day, I had designed it with an adjustable seat and handlebars in order to grow with the child. I later presented my trike to the team, where the idea and model was discussed in great detail making me feel as if my idea could become a starting point for future designs. This taught me the long process in which designers had to go through, and the resilience the DEMAND team have to keep going, facing one obstacle after the next.
I enjoyed my entire week here, from the insightful conversations that happened whilst in the office to the music whilst working in the workshop however what made my week was the friendly attitude of team here. Working at DEMAND taught me all sorts such as factors associated with running a charity, the designing process that happens in manufacturing a completely new product and the challenges associated to living with a disability. Thank you to everyone at DEMAND for making me feel welcome over my week, and I am truly sad to leave."
If you're interested in finding out more about work experience placements with our team, get in touch.