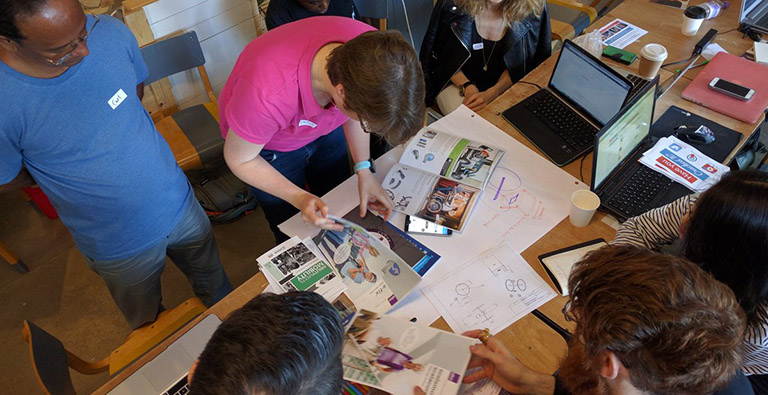 Hack On Wheels is the brainchild of Rachael Wallach, who was inspired to disrupt disability while travelling through South America with her wheelchair.
She noticed there were no other wheelchair users around, and after visiting local charities discovered that people weren't able to get out and about independently because suitable wheelchairs simply weren't available. Rachael told us there are 52,000,000 people in the world that need to use a wheelchair but don't have access to one that suits their needs.
When we heard about Rachel's plan to disrupt disability with open source designs for customisable wheelchairs, we jumped at the chance to get involved!
Inspired by E-Nable, an organisation that's turned the prosthetics industry on its head by creating designs for prosthetic arms that can be made for a fraction of the cost of traditional prosthetics, Rachael hopes to create a wheelchair that's affordable and attainable for all the world's disabled population.
So on the sunniest weekend of 2016 so far, three of our designers set out across London to Machines Room, a community makerspace where Hack On Wheels has been granted a residency to facilitate development of the project.
Excited to be here at the latest #HackOnWheels hackathon with @HackOnWheels pic.twitter.com/uz30Tpp2xI

— Ben Ross (@SmileyBen) July 16, 2016
We started with introductions. A mix of engineers, designers, researchers, wheelchair users and passionate hackers had gathered to share ideas and begin designing the world's first open source wheelchair.
"The distance between the wheelchair user and the designer is huge."
Rachael spoke about her ambition to close the gap between designers and wheelchair users, engaging designers to design alongside wheelchair users, and enabling people to customise their own wheelchairs to suit their needs.
My wheelchair "is not a medical device,it's #WearableTech" #HackonWheels @rachaelwallach @HackOnWheels @AutodeskEDU pic.twitter.com/5Ey7YBy6gW

— Mike Westlake (@MikeADSK) July 16, 2016
The day continued with talks from Jordan Jon Hodgson, Steve Cox and our very own Matt Carlon who offered different perspectives that helped shape discussions during the day.
Jordan, a research associate with the Royal College of Art shared his experiences designing 3D printed prosthetics that have the potential to enhance people's lives with the Helen Hamlyn Centre for Inclusive Design.
Learning all about customizable prosthetics from the fabulous Jordan from the @HHCDesign @HackOnWheels hackathon pic.twitter.com/4VWIgmqOTQ

— Cathy Holloway (@cathyholloway1) July 16, 2016
Matt, a design engineer at DEMAND shared his experience with user centred design.
"User Centred Design is the core of DEMAND's work, since everything we design and make originates from a real world problem an individual has experienced. We listen to the individuals needs and involve them in the design process from start to finish."
Next up… Matt from DEMAND speaking on user centered design. @HackOnWheels pic.twitter.com/mq63Uek7dZ

— Cathy Holloway (@cathyholloway1) July 16, 2016
Steve, education ambassador for Ultimaker GB, told us about using generative design to create 3D printable designs for the wheelchair parts. In generative design the known forces, such as the weight of the user acting down, are input into a computer program which analyses and designs a structure using the minimum amount of material possible. The resulting shapes are stunning organic forms, a huge contrast to traditional design.
Learning all about #generativeDesign by @autodesk at @HackOnWheels with @UltimakerGB @UltimakerCREATE pic.twitter.com/xA737HsxSu

— Cathy Holloway (@cathyholloway1) July 16, 2016
With heads full of ideas and inspiration from the speakers, we broke off into groups to discuss plans for the day. Teams got hands on with a variety of wheelchairs, dismantling and re-assembling to get ideas for potential improvements.
Sketches helped to get the creative juices flowing and sparked a discussion about the merits of a foldable versus a fixed wheelchair frame.
Teams hard at work at the #HackOnWheels hackathon! @HackOnWheels pic.twitter.com/gPoEBW2xee

— Ben Ross (@SmileyBen) July 16, 2016
After a much needed break for lunch, the work started in earnest with groups tackling a selection of interface designs. The aim was to agree guidelines to be used when designing components for the open source wheelchair.
HackOnWheels will enable anybody to contribute a design for a wheelchair part, so guidelines that define how different pieces will fit together are necessary to make sure any selection of parts (frame, seat and backrest for instance) will fit together and make a usable wheelchair.
Luke Denby, who has been designing with DEMAND on an industry placement from Nottingham Trent University, worked with a team to design the interface for anti-tip wheels.
Designing interfaces #HackOnWheels pic.twitter.com/rliwGgmwHv

— Ben Ross (@SmileyBen) July 16, 2016
One team decided to utilise readily available parts and suggested using a standard steering tube assembly from a bike to attach the castors to the wheelchair frame.
Feeding back on each groups hacked wheelchair designs #HackOnWheels @HackOnWheels pic.twitter.com/kT6PUh42dl

— Ben Ross (@SmileyBen) July 16, 2016

Steve fed back to the group about his team's decision on a 2 part solution for the caster fork mount and footrest assembly, which would allow for maximum customisability since each person could choose whichever footrest style they preferred.
After a day heavy on the technicalities, a full set of guidelines were agreed and uploaded to the collaborative design platform, Wevolver. We can't wait to see how it all comes together!
If you'd like to find out more and get involved with the #HackOnWheels movement, email disrupt_disability@hackonwheels.org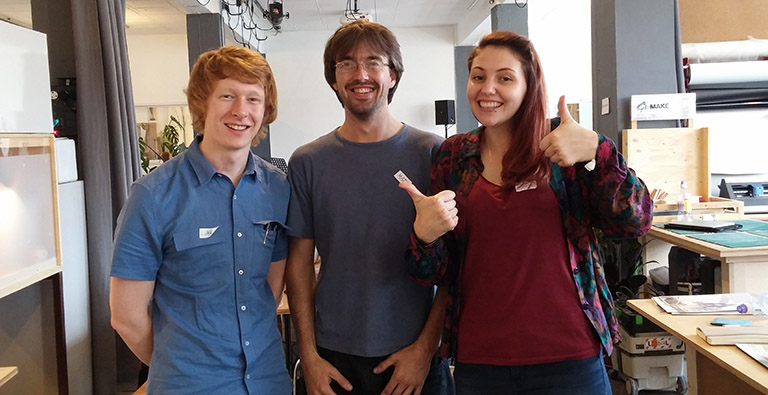 Luke Denby, Matt Carlon and Lynnette Smith from DEMAND