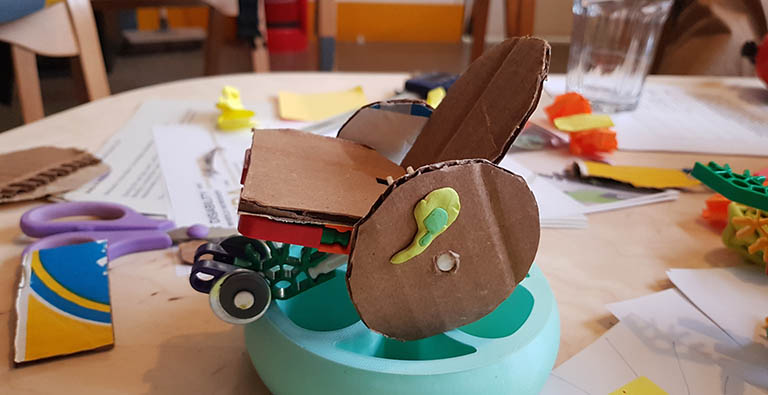 This week we joined with designers, makers, disabled people and disability experts to help shape the future of wheelchair design. Disrupt Disability are working to create the world's first modular wheelchair system, to give more people access to wheelchairs that properly fit and can be customised however they choose.
The Disrupt Disability team are collaborating on a 'hub' design that will allow different modules to be assembled and create a fully functioning wheelchair. At Machines Room, teams worked to develop new interchangable wheelchair modules, led by wheelchair users who came prepared with their own wheelchair wish lists.
The challenge for today's #Hackathon is to design a unique wheelchair system using modular components for an individual user #wearyourwheels pic.twitter.com/5G5s19oeN9

— RSA Design Awards (@RSADesignAwards) June 27, 2017
We were joined by finalists and winners of the RSA Student Design Awards who presented their innovative wheelchair designs, including a stylish indoor wheelchair designed by Nelson Noll, and a retrofitted device to help manual wheelchair users easily get up hills by Tom Dell.
Today we are @machinesroom for @HackOnWheels #wearyourwheels #Hackathon with the #HackOnWheels RSA award winners! pic.twitter.com/3B2NbE7ylA

— RSA Design Awards (@RSADesignAwards) June 27, 2017
To begin the hackathon, wheelchair users discussed their own experiences of using a wheelchair with their teams and decided on an area for improvement. With plenty of post-it notes and sketching, the teams began to form ideas for interchangeable wheelchair seats, backrests and drive modules.
David Constantine, founder of @WeAreMotivation & chair of the #HackOnWheels judging panel joins the #wearyourwheels discussion pic.twitter.com/AlwKFfEY9f

— RSA Design Awards (@RSADesignAwards) June 27, 2017
Prototypes and models began to take shape, with some teams managing to translate their ideas into CAD drawings ready for 3D printing and full scale manufacture.
Next @HackOnWheels – Choose a module, how could the design be fabricated beyond this room? Get feedback from user in group #wearyourwheels pic.twitter.com/QwRTsGJ1sr

— RSA Design Awards (@RSADesignAwards) June 27, 2017
At the end of a long day's discussuon and designing each team presented their ideas, which ranged from a process for designing a backrest using 3D scanning to a gallery-worthy collection of concepts for stylish wheelchair seats. With time to complete full scale prototypes and refine the designs, these ideas could be go on to be part of the world's first modular wheelchair!
A few final ideas: Solar-powered wheels, a backrest that holds a bag without effecting support & a beautiful supportive seat #wearyourwheels pic.twitter.com/FdT4FzbE5B

— RSA Design Awards (@RSADesignAwards) June 27, 2017
Find out more about Disrupt Disability and how you can get involved here.