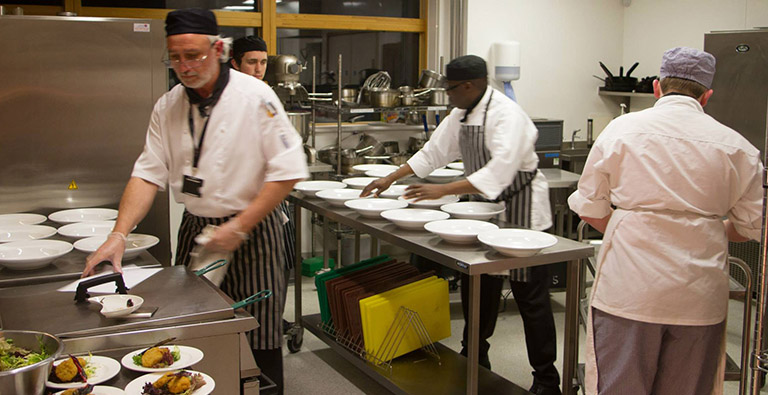 DEMAND celebrate another year transforming lives with a Gourmet Dinner
The Restaurant at West Herts College opened its doors to supporters of Abbots Langley charity, DEMAND Design and Manufacture for Disability. Students of the college's Food Academy Programme skilfully prepared the night's Thanksgiving themed meal which went down a treat with the guests.
Denise Gillies, Fundraising Manager at DEMAND said; 'As Christmas approaches this annual Gourmet Dinner is a great opportunity to say thanks to all of the individuals and local businesses who have supported DEMAND this year. We've been able to help a record number of people, all thanks to the generosity of our donors.'
Ticket sales coupled with funds raised from a raffle drawn on the night bring the total raised to £544 which will help to transform lives with custom made disability equipment.
This year's Gourmet Dinner wouldn't have gone ahead without the support of local businessman Jean-Michel Rodrigues from JM Services Home Improvements. A long standing supporter, Jean-Michel first became aware of the charity when his son Carl-Eiler joined the charity on a student placement from Nottingham Trent University in 2010, and the family has supported DEMAND's work ever since. At DEMAND, Carl-Eiler designed a Skiing Frame that lets disabled children enjoy an upright skiing experience alongside their friends.
Denise said; 'Jean-Michel arranged a table of 17 guests for Tuesday's Gourmet Dinner, and his advocacy for our work within the community is invaluable. It's hugely important to us when our supporters speak to their friends and colleagues about DEMAND and the lives that have been changed because of their support. We're very proud of our committed supporters!'