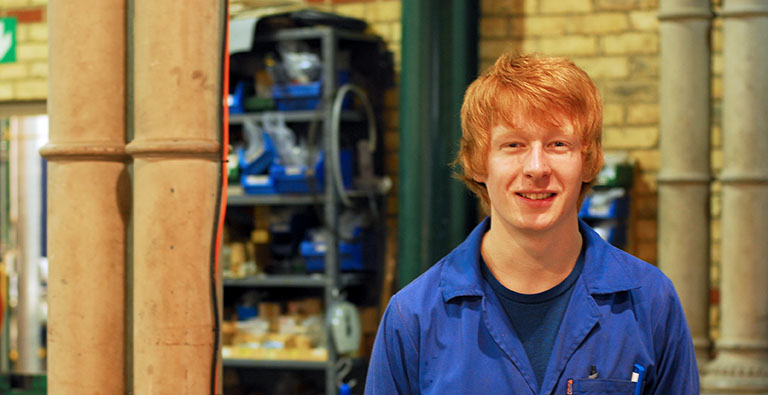 Luke joined the team at DEMAND on a work placement from Nottingham Trent University in September 2015.
Our student placement programme is a unique opportunity to gain insight and a wealth of hands-on experience in the world of disability design.
Education is an essential part of our work and we believe that having student designers experience the way we go about designing for individuals and seeing first hand the impact they, as a designer can have, will inspire them to continue to create products empathetically; taking full consideration of people with mobility and cognitive challenges for the entirety of their careers.
Luke spoke about his experiences of his year-long work placement with us.
"DEMAND gave me the chance to learn the whole design process which is rarely available on any other placement. One of the best parts of this placement is meeting the clients to assess their needs, then design, make and deliver the product back to them. Often, this product could have a life changing impact on them. This shows you the true power of design and charities like this one.
Not only is this placement a great experience for any product design student, you get to work with a fantastic team which helps you understand and experience the real and often tricky process of user centred design. I felt valued as part of the team and enjoyed working with all of them.
I worked on many projects, designing and managing them, which was great experience for a designer in training.
A major part of my placement was spent designing and manufacturing a custom handle to help Caitlin, who has cerebral palsy to apply her deodorant independently. I learned a great deal about silicone and plastic casting which was a process I can now take with me back to University. I gained a wealth of technical skills; being trained how to use lathes and mills was something I always wanted to learn so I'm grateful for that opportunity.
It was great that they gave me the project to control and gave me pointers as to the most appropriate way to tackle the project. As I learned more and more about designing for disability, I was given more control over the project which gave me a real sense of being a designer.
I was invited to take part in DEMAND's education and outreach projects. We hosted a 'designathon' to teach school students about inclusive design and design for disability which was a great experience for me as I'm thinking I will become a design teacher sometime in my future career. I worked with the HackOnWheels team to help kick start their project designing the world's first open source wheelchair and worked on a design project with the charity Medical Detection Dogs.
Now I am in my final year at Nottingham Trent University and I realise how valuable this placement has been to me because I can apply so much of what I learned in my final year work and beyond."
Read more about our student placement programme and find out how to apply.