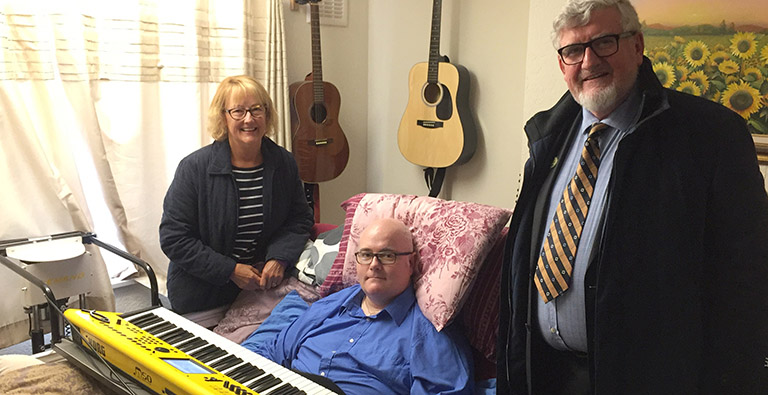 38 year old JJ has joint hypermobility syndrome, which leaves him in constant pain and makes him very susceptible to injuries such as joint dislocation.
In recent years JJ's condition has worsened so much that he is unable to stand or even sit up in a chair. He can only lay reclined in bed.
JJ loves music, in particular composing on the piano, but his condition means he hasn't been able to enjoy his passion for music for some time. For JJ, composing and playing the piano is a valuable therapy as well as an enjoyable pastime.
JJ got in touch, and we paid him a visit to assess his needs and to figure out how best to help JJ get back in the groove. With JJ's helpful ideas, our engineers designed a custom cantilever table that would hold a keyboard above JJ's bed and tilt at an angle to allow him to play comfortably.
"The project was a challenge, but we do love a challenge! JJ knew exactly what the table needed to do, it was just down to us to design a safe and sturdy solution that JJ will be able to use every day if he chooses" – Ben Armitage, DEMAND Engineer.
"It's been a couple of hours since the stand was installed and I'm still playing away. The stand allows me to adjust my orthotic electric bed to support my joints and ease my pain." JJ commented on his new piece of kit, "Thank you so much for helping and enabling me to play my piano again with a great piece of engineering and understanding of my needs. I am now looking forward to regularly playing and composing."
We rely on donations to carry out custom design projects like JJ's. You can donate here to support even more projects like JJ's.