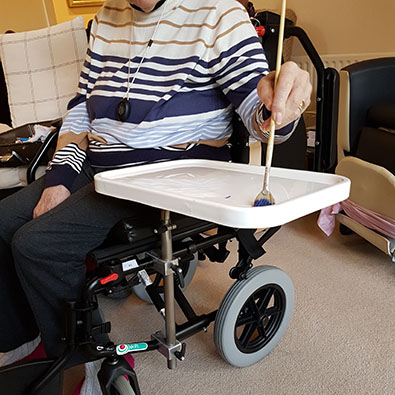 Yvonne is a passionate artist living in Hertfordshire. She is a renowned painter, who has sold pieces throughout Europe and the United States. Yvonne's painting career was put on hold when she experienced a stroke which affected the movement in her right side. She now uses a wheelchair and is unable to move her right hand with the accuracy her painting requires.
Yvonne is now teaching herself to paint with her more mobile left hand. Having been right handed for most of her life, it is no easy task. She has persevered to gain the control over her left hand that her painting requires, by tracing her own paintings to get her left hand accustomed to making the strokes.
She has made great progress, but holding her back was the inability to hold her paint palette and the brush at the same time. Before her stroke, Yvonne would paint with her right hand whilst holding the palette in her left, but this is no longer possible. Our designers visited Yvonne at her home painting studio to see her painting set up and decide how we might be able to help.
We agreed that a palette holder fixed to Yvonne's wheelchair would be the most effective solution. A palette held on an adjustable arm would enable Yvonne to get the palette close to her canvas, and means she won't have to reach a great distance to load up her brush.
Now, with a custom made palette holder Yvonne can continue her journey back to creating art after her life changing stroke. She is able to paint independently once again, without assistance from her husband who has become her primary carer. Being able to enjoy the activities Yvonne cherished before her stroke is a huge step on her road to recovery.
You can see Yvonne's beautiful artwork on her website.
If you would like to support our work helping more people like Yvonne to do the things they love, set up a monthly donation and make sure we're here to offer everyone the help they need.